Top Stories
Local medical author teams with Discovery Channel
| | |
| --- | --- |
| Special to the American | January 02, 2003 |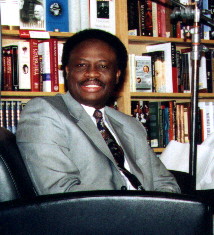 Author Yinka Vidal at a local Borders bookstore during taping of a show on medical errors in November. The show will be aired on the Discovery Channel in spring 2003.

ST. LOUIS -- St. Louis author Yinka Vidal will help the Discovery Channel diagnose the cause of medical errors in an upcoming show.

"Medical Errors and Solution Intervention" will air later this spring and Vidal, the author of "101 Ways to Prevent Medical Errors" and the "Chair of the National Campaign to Prevent Medical Errors" was recently filed in St. Louis.
He has studied the causes of medical errors for 25 years, and began working on "solution intervention" more than three years ago. He is currently working on a third book on the subject.

In his interview, Vidal stresses that medical errors are not caused by a complex health care system, but rather by "simple systemic failures." He describes American medicine as being the best in the world and the United States spends more money on the advancement of medical research more than any other nation.

"But, there are defects in the processes of delivering care (and) those defects manifest themselves as simple systemic failures," said Vidal, also managing editor of OUTCRY Magazine.

Film Garden Entertainment of Hollywood, is the documentary for the Discovery Channel.

The documentary will include a few cases of medical errors across the nation and interviews with experts on how to prevent such problems in the future. The program is different from other news reports about medical errors because it discusses solution intervention. St. Louis will be featured in the solution segment of the documentary and how to solve the riddle of medical errors.

In addition to Vidal, Dr. Max M. Cohen, vice president and chief medical officer of the Missouri Baptist Medical Center, was also interviewed because of his studies.

In his interview, Cohen points out that humans will always make mistakes. But, when errors occur mechanisms should be put in place to prevent such errors from occurring again.

"As humans, we are unwilling to accept the reality that we make mistakes," he said. "In health care, like any other industry, mistakes are very common. In the past years not a lot of changes have taken place regarding medical errors."

Cohen indicates that the total cost of medical errors greatly exceeds $10 billion annually and offers some hints to other health care professionals to help prevent errors. They include: surgeons should be careful not to leave any surgical instrument inside a patient; modern anesthetic machines that monitor vital sign parameters and it should be calibrated and be in good working condition; and most hospitals are equipped to deal with emergencies and the out-patient surgery department should be regulated with the same guidelines as the regular hospitals.

Also, Cohen suggests that a non-punitive approach is the best way to address medical errors when they occur. Also, he emphasized that the errors are not caused by bad people, but by the defects in the processes of care.

"Medical errors claim two victims -- the patient and the health care workers," Cohen said, noting that there is hardly any health care worker involved in an error that is not traumatized because of it.
ęSt Louis American 2003